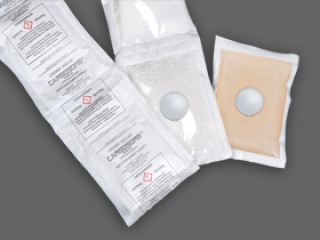 100g、125g、0.5KG、 1KG、 2KG
CARGOSORB® container desiccant can reduce dew point temp and fights "Container Rain" in order to keep all kinds of cargoes safe and dry. CAROGSORB® can absorb three times its weight in moisture, and through a special formula, this achieves that all the absorbed moisture changed into gel material and no any fluid leakage caused. And it is a kind of safe, non-toxic desiccant. It can be disposed directly as regular waste.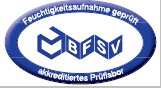 Comparison of moisture absorption of different container desiccants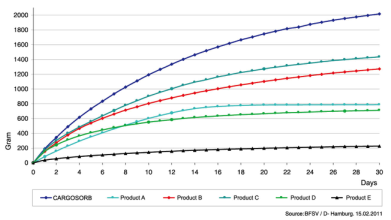 CAROGSORB® was tested under extreme condition in a climatic chamber of the internationally certified lab of BFSV/D-Hamburg. The capacity results of CAROGSORB® is excellent.
Cargosorb has blanket, single package & hanging style from which customer can select the suitable material to meet their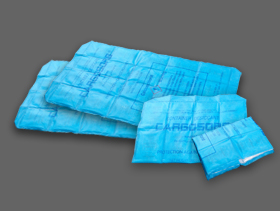 equirement.
Cargosorb-blanket with an adhesive back can stick on the surface of cargoes.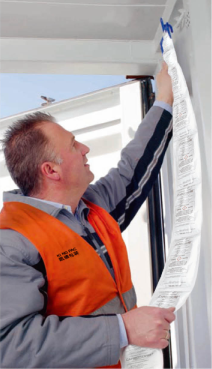 Cargosorb-hanging with an adhesive backing can be easily installed
onto the grooves of the containers walls or inside storage warehouses.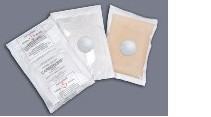 Cargosorb-single bags with an adhesive backing can be placed onto the grooves of the containers walls, on the pallets or just stick on the cargo surface.
Typical applications:
CAROGSORB can protect all kinds of cargoes such as machines, casting, food, cereals,automotive parts, wood, canned goods, glass, artworks, furniture etc.
The optimal amount of CARGOSORB necessary for a container depends on several parameters as kind of packaging, shipping range, the nature of products etc. KINDPAC team can provide customer a competent technical support combined with individual solutions for their special situation.
For usage of Cargosorb, pls click link index.php?module-news-view-4.html